Title

44th Grand Sumo Tournament

Date

Sunday、Feburary 9th、2020
【Door Open】 11:00  【Door Close】 17:30 ※tentative schedule

Venue

Kokugikan (Ryogoku)
Address/1-3-28 Yokoami Sumida-ku Tokyo
※Ryogoku Station on JR Sobu-line or Toei Oedo-line

Orgernizers

Fuji Television

Co-Orgernizers

Nihon Sumo Kyokai
Nippon Cultural Broadcasting Inc.
Sankei Shinbun Co., LTD
Sankei Sports

Prize Money

Total amount: Approximately eleven million yen

【Ticket Price(Tax included)】
Seats
Numeber of People
Price
Tamari seat
1seat for 1person
14,800 yen
Masu A(Box Seats)
1 box for 4 people
46,000 yen
(11,500 yen per person)
Masu B (Box Seats)
1 box for 4 people
38,000 yen
(9,500 yen per person)
Masu C (Box Seats)
1 box for 4 people
32,000 yen
(8,000 yen per person)
Pair Masu B (Box Seats)
1 box for 2 people
21,600 yen
(10,800 yen per person)
Pair Masu C (Box Seats)
1 box for 2 people
18,000 yen
(9,000 yen per person)
Chair A
1seat for 1person
7,600 yen
Chair B
1seat for 1person
3,500 yen
Adults Non-reserved
1seat for 1person
1,500 yen
Childs Non-reserved ※ages 4 to12
1seat for 1person
200 yen
※Masu requires 4 people to order 1seat.
※Children over 4years of age need to have a ticket.
※Children 3 years and under are free. However they cannot occupy a seat.
※Gift Bag is not included in these tickets.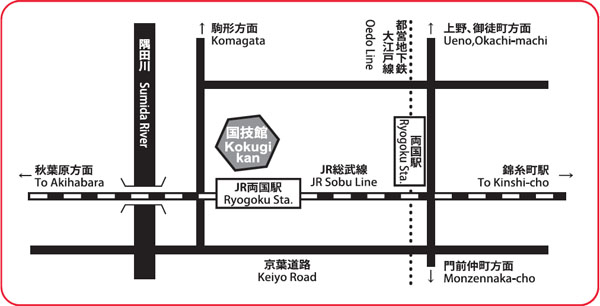 Ryogoku sta. JR Sobu line or Toei Oedo line (subway)
We don't have any parking place. Please use public Transport.